Monarchs Club Corner Bar Founded in as a speakeasy in 1925
Monarchs Club Corner Bar was founded as a speakeasy in 1925, reborn as a pub in 2006.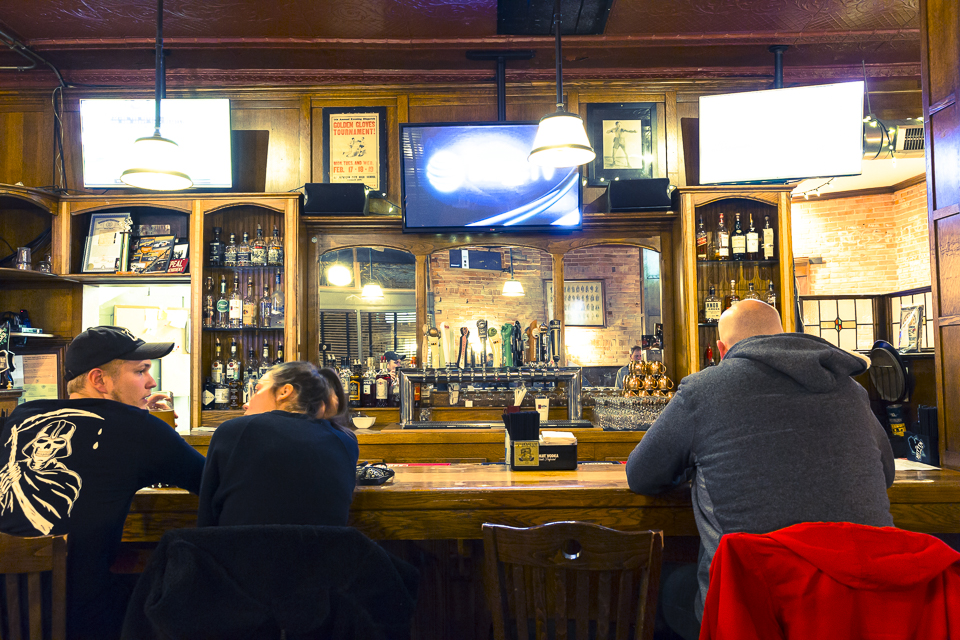 ---
"I looked into the history of the building," Lehnen said. "During Prohibition there was a speakeasy at this location called The Monarchs' Club. I thought 'Hey, why not reinvent that name?'"
Originally built as a pharmacy/soda fountain, the building has many original architectural elements that Lehnen incorporated into the pub's design.
"We have the original 1¼-inch thick black glass that the pharmacist used to chop up and package his product," Lehnen said. "We're reusing it as drink rail. We've got the original black and white marble mosaic floor. The exterior has the original black porcelain tile facade."
The 1,350-square-foot pub has a 12-foot ceiling that is decked out in its original tin ceiling plates. Other period pieces include an 80-year-old back bar mirror from Chicago, and an 80-year-old glass and oak display cooler from Virginia.
"We designed the pub around these pieces," Lehnen said. "We built the bar piece so it looks like it's been here a while—white oak with burl maple inlay."
To bring the pub into the 21st century, Lehnen added a large screen TV and three smaller TVs. Patrons can enjoy one of the several European or American Craft beers on tap, or one of the high-end wines and bottled beers. Sandwiches, wraps, panninis, salads, and soups are on the menu.
Prohibition — the dark 13-year-period when alcohol was outlawed in the US
 Prohibition — the dark, 13-year-period when alcohol was outlawed in the U.S. — is an oddly fascinating piece of American history. In the heyday of speakeasies, gangsters ran amok and crooked cops were glamorous in a Hollywood revisionist kind of way. Stages were set for elaborate smuggling rings, underground jazz clubs with secret handshakes and warehouse raids. No wonder so many girls dress up as flappers on Halloween.
We built the bar piece so it looks like it's been here a while—white oak with burl maple inlay
This intrigue explains the attraction to the recently opened The Monarchs' Club and its swanky digs. The 113-year-old building once was home to a speakeasy of the same name, and it has reopened as a neighborhood pub. Owner Frank Lehnen, owner of Rocky's Bar & Grill and the former Radio Tavern, has outfitted the interior with vintage fixtures and original architectural elements. The style reflects the history, minus the sobering consequences of the 18th Amendment.
I first went to the Monarch seeking a quiet little spot for dinner on the city's Northwest Side, an area that is going through a business and cultural revival of sorts. But Monarch clearly bucks the "order quietly and speak easy" heritage of its namesake. Patrons seated at the bar sang — and clumsily danced — along to wedding-reception standards such as "Brown Eyed Girl" and "Friends in Low Places," raising shots and generally having a good time.
Although space is somewhat limited, the high ceilings and an open black-and-white tiled dance floor keep things from feeling claustrophobic. Added touches such as exposed brick walls, a bar made of white oak with burl maple inlay and a vintage back bar mirror lend a classy air to the joint. Sports fans and television junkies will appreciate a large-screen TV, typically tuned to pro-sports and set to "mute." Beer aficionados will delight in the extensive selection of well-crafted American and European beers. History buffs will drool over the building's quirky past. (Example: A woman once got stuck in a chimney while hiding during a police raid on the original Monarch). The rest of us can sip our drinks and be thankful we no longer need a special password or secret handshake to grab a drink at this local pub.